---
| | |
| --- | --- |
| | |
The Nickl RuggedLight12WX-U-DP++ is designed for the research and development as well as the measurement and data acquisition at mobile use. It is able to display graphics standards such as DOS text, VGA, SVGA, XGA, XGA+, WXGA (pixel-accurate) and SXGA up to UXGA and video standards like NTSC-, PAL- and SECAM. All input resolutions unequal than 1280 x 800 dots can be scaled by an excellent image scaler to a full screen display.
Due to its high brightness of up to 1500cd/m² combined with its anti-glare coating and viewing angles of mostly 80° in each direction it is best suitable for mobile applications. The wide supply voltage range of the internal galvanically decoupled power supply makes applications running with 12 VDC or 24 VDC possible. Also 28 VDC of aeroplanes can be applied to the power input. Additional it´s an 3 Port USB-hub, plus an Uplink port, integrated in the display. This version has with a DisplayPort a second digital input.
Particular features
Brightness up to 1500cd/m²
Wide Supply voltage range 9..36 V, galvanically isolated
Rugged anodized aluminium casing
Inputs for computer and video with user-friendly switching
DisplayPort dual mode (DP++) compatible input
DVI input (HDMI compatible, HDMI to DVI cable available)
2x VGA inputs, 1x via DVI-I connector (VGA-to-DVI cable available)
Zooming (interpolated) for all resolutions lower than WXGA (1280 x 800)
Shrink (interpolated) for all resolutions higher than WXGA up to UXGA (1600 x 1200) and up to SXGA+ (1440 x 1080) @ DVI
Compact dimensions: (308 x 197 x 43) mm³
integrated 3 Port USB-Hub + USB-Uplink Port
ShutDown input for power-off via external signal
Two brightness levels via external signal switchable
Variable adjustable low-voltage-warning displayable
Applications
Research and development (R&D) inside testing vehicles with 12V, 24V or 28V DC on-board network
Visualizing processes
Monitoring
Display panel and operating device at mobile measurement applications
| | |
| --- | --- |
| Order Data: | 1EMRL12WX-U-DP++ |
The optical Properties

The excellent readability even at direct sun light lead to the very descriptive name SunLight. Also the good anti-glare surface properties allow you to work in bright environments, such given in a car.
---
The Interface

Start immediately by being independent of the operating system or other customized solutions. The analogue input or a DVI input enables you to work under almost all operating systems since you do not need a specific driver for a proprietary graphics interface and you do not need a specific BIOS version to see your computer booting.
---
The Power Supply

Directly connect to the battery of your car or aeroplane. The built-in power supply offers a wide input supply range of 9..36V in most of the cases. In addition, you are released from ground-loops since the power supply of the SunLight and RuggedLight series is galvanically decoupled.


---
The >>display-lens<<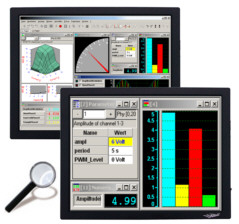 In most cases, a relatively high resolution is desired for a display, but for this the display is mostly large and less integrable. A smart solution here is the unique >>display magnifier<< which is possible by setting via the display menu and activated with a display key combination.