---
| | |
| --- | --- |
| | |
At the development of the Nickl StarLight series all experiences made with the SunLight series are collected. Then the main features of them are inherited in order to offer a very cost-effective display.

In that way, the starter model StarLight8S was developed for cost-sensitive applications. It offers all what is neccessary to work effectively in the research and development inside a vehicle. For example its resolution of 800 x 600 dots allows working with graphical user interfaces and its high brightness of 350 cd/m² eases reading the display content. Even mixed application with PC graphics and camera is possible because the user can select between the inputs.

Its very compact outer dimensions and the available accessories ease the integration on most places and a direct connection to the automotive mains eliminates the need of a DC/DC converter.
Particular features
Two brightness levels via external signal switchable
Touch-Sensor, resistive
Wide Supply voltage range 9..36 V
Applications
for measurement technology and PC systems in vehicles with 12V, 24V or 28V DC on-board network
The Power Supply

Directly connect to the battery of your car or aeroplane. The built-in power supply offers a wide input supply range of 9..36V in most of the cases. In addition, you are released from ground-loops since the power supply of the SunLight and RuggedLight series is galvanically decoupled.


---
The >>display-lens<<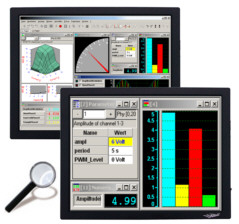 In most cases, a relatively high resolution is desired for a display, but for this the display is mostly large and less integrable. A smart solution here is the unique >>display magnifier<< which is possible by setting via the display menu and activated with a display key combination.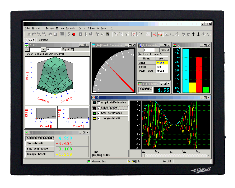 With its electronic "display-lens" it is possible to get any display window with any user-defined magnification. Once only adjusted, then easily can be toggled with the two push-buttons "Enter + Adjust" from the original frame to the adjusted "lens" window, and vice verca.

HANDLING: push the Enter-button first and keep pushed, direct after it push the Adjust-button additionally