---
| | |
| --- | --- |
| | |
The RuggedLight21QX-T (RL21QX-T) has been specially developed for the highest display and operating requirements in the vehicle. The RL21QX-T is a very high resolution computer display with 2048x1536 (3 million) pixels at a large image diagonal, high luminance and with an integrated multi-touch PCAP touchscreen with USB interface e.g. for mobile visualisations and presentations.

Thanks to the "Premium high resolution" graphics processor in the special own electronics, picture-in-picture, zoom and flip functions are possible for adjacent image signals. With the special zoom function, flexible and pixel-accurate magnifications can be selected by pressing a button. The possible high-format installation, which is supported by the special viewing angles, the mounting types as well as the 90° rotated fade-in and the OSD menu, reduces the space requirement in the width. The proven inputs: DisplayPort & DVI-I/VGA & HDMI are also available.

The anti-reflective surface, the special viewing angles and the very high brightness of the TFT panel in the rugged, black anodized aluminium housing as well as a supply range of 9..36VDC with galvanic isolation guarantee outstanding display possibilities in vehicles.
Particular features
2048 x 1536 resolution (4*XGA/QXGA) @ 21.3
Large 21.3 image diagonal for outstanding visualizations
Very large viewing angles for left, right, up and down, up to 89° each
NEW: Display Magnifier (zoom) for the image signal also for picture-in-picture (PIP), zoom is flexible, pixel accurate and individually adjustable for each image source
NEW: Support for portrait display, an upright installation is supported by 90° rotated fade-in and OSD menu (90° rotated image signal required by the graphics card)
NEW: Horizontal and vertical flip of the image signal for e.g. "mirrored" display (rear view camera)
NEW: Support for non-native aspect ratios (4:3 / 16:9) optimized for pixel-accurate display, also for PIP
Brightness up to 850cd/m²
Wide Supply voltage range 9..36 V, galvanically isolated
Rugged anodized aluminium casing
Outer dimensions with approx. (475 x 368 x 55) mm³
ShutDown input for power-off via external signal
Picture-In-Picture & Picture-By-Picture for video display from two PC's at once
DisplayPort DP 1.2, DVI-I/VGA, HDMI 1.4
PCAP touchscreen for comfortable and ergonomic interaction
Mounting options for VESA 50, VESA 75, ball joint and pyramid
Lean & circumferentially rounded edges for minimized risk of injury
Large side buttons for ergonomic and safe operation
Applications
Large high-resolution measuring technology display or presentation in a vehicle with 12V, 24V or 28V DC on-board network
Portable process/monitoring visualization
Professional monitor in the Ob-Van for live transmissions
Survey and control of geo- and environmental data by airplane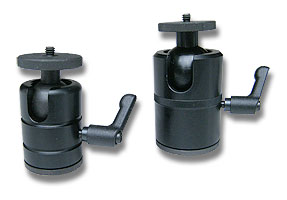 This big solid ball joint is used to fix the display at the desired position. A notch allows tiling up to 90 degrees. At the bottom side there is a swivel joint which allows moving the notch and positioning the fixation screw....
---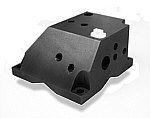 The mounting pyramid allows adaptation to ball joints, mounting plates, planes, pipes or to a display directly. Two of its flanks are inclined while the others are arranged perpendicular. For ball joints there are special M12 metr...
---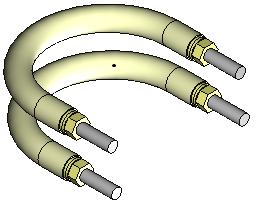 Bracket Kit for mounting the pyramid or a plate holders for pipe installation. The tube must not exceed a maximum diameter of 55 mm. The strap set consists of two bent threaded rod bracket in U-shape with M5 - external thread. In ...